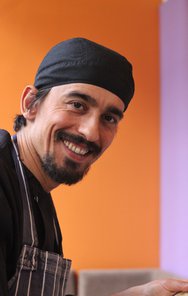 Fatih Guven is the head chef and owner of Funky Gourmet catering, based in London. Fatih has 20 years of culinary expertise across Europe.
After graduated from culinary school, Fatih worked in various 5*/5* and AA rated rosette restaurants and hotels. In 2004, he decided to join Culinary Art Academy of Istanbul and became an instructor chef. He met with raw & vegan cuisine in 2007 at SAF Restaurant in Istanbul, Turkey and decided to focus on raw & vegan food since then. During his journey, Fatih had opportunity to work with amazing chefs and had been trained by Chad Sarno, Carlo Bernardini, Yumiko Kase, William Peter Boyce and David Bailey.
As raw & vegan head chef, he worked in SAF at Zerwick in Munich, SAF Restaurant & Bar in Shoreditch and in Kensington, in London until 2012. He also started to work in food manufacturing facilities by creating SAF to Go range to market in retailers and distributors in the UK. After his departure from SAF, in 2012, Fatih established Funky Gourmet catering to continue his journey in raw, vegan and vegetarian cuisine.
Fatih now works as a personal chef, preparing meals for his clients according to their special nutritional requirements. He caters for events, weddings and birthdays. He provides consultancy services in hospitality sector, to restaurants and to food manufacturers.
At the moment, he is working on his class schedules for 2014-15 and planning to launch series of raw food classes. A pop up restaurant project might be a surprise for his lovers' really soon… :)
Fatih loves working in the kitchen, creating new recipes and trying new ideas. He has a passion for Japanese knives. When he is out of kitchen world, he loves camping,cycling and he has genuine interest on photopgraphy.